Note: External users have no right to start an approval flow but can be set as approvers. Non-users cannot start an approval flow nor be an approver. However, if you would like to include non-users in an approval flow, please refer to this method.
Approval Flow
You may send approval requests through the lower right corner on the form page of a data entry if there's an approval flow configured in the sheet.
If you see a drop-down menu under Name, select the approver's username.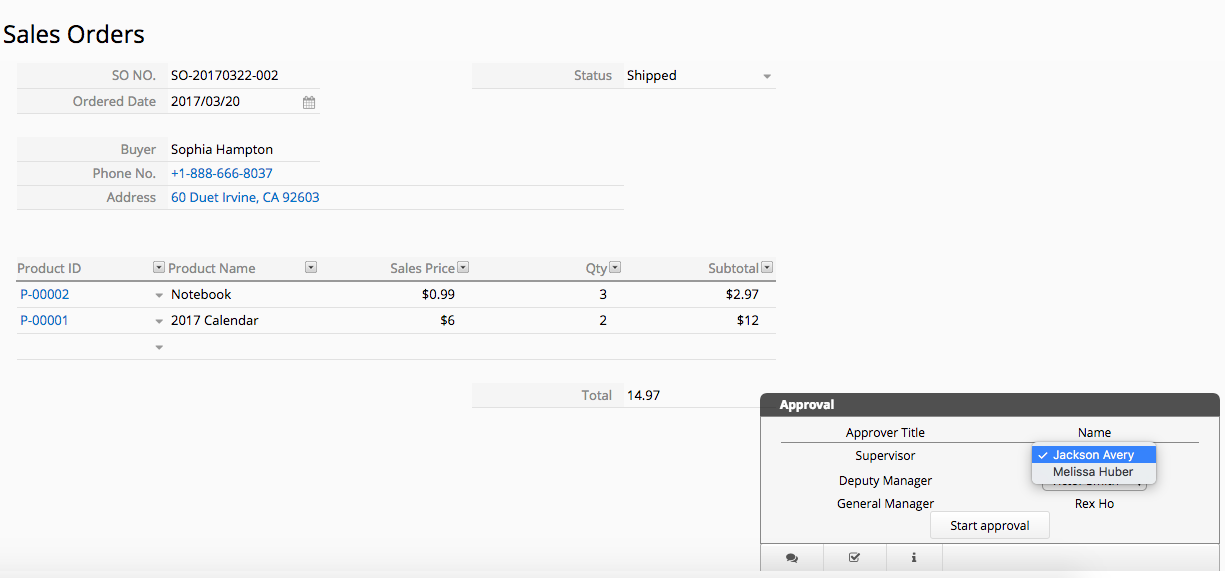 Click on the "Start Approval" button to start the process. You will notice "Approval status" switches to "Pending approval". To notify the approver again, you may click the "email" icon beside the approver's name.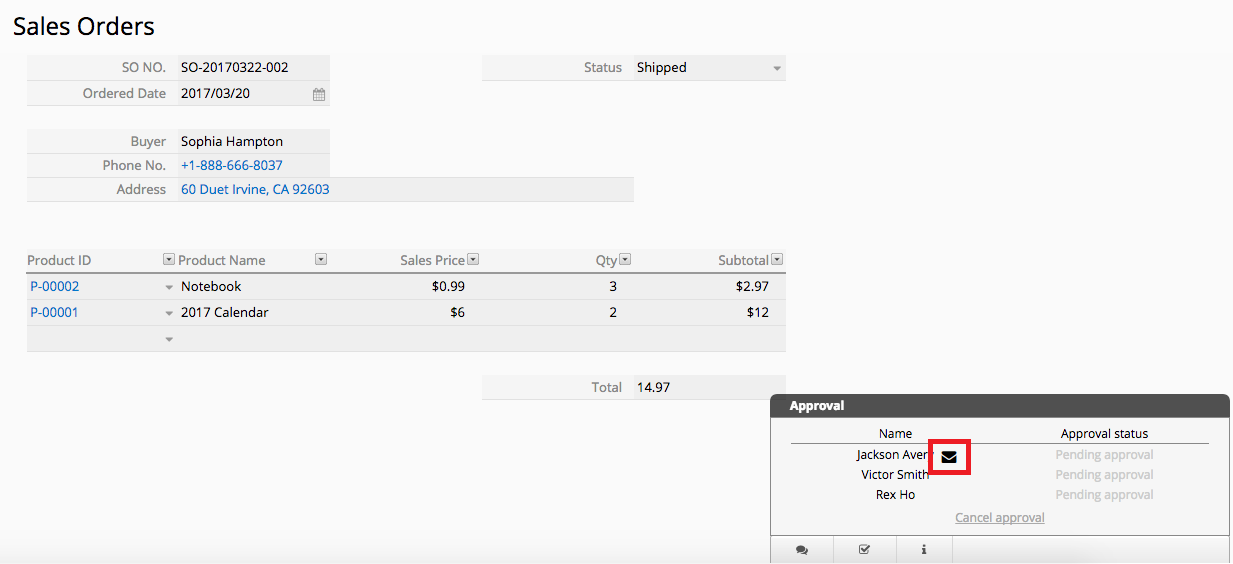 Approval requests will be sent to the next approver in the approval flow. Approvers can approve (or reject) this request through the notification email they receive.
Approvers can also approve (or reject) directly through the form page of this entry.

("Reject" option is available if it is added during approval flow configuration.)
You will have to re-enter your password to verify your identity if the approval flow is configured with strict identity verification.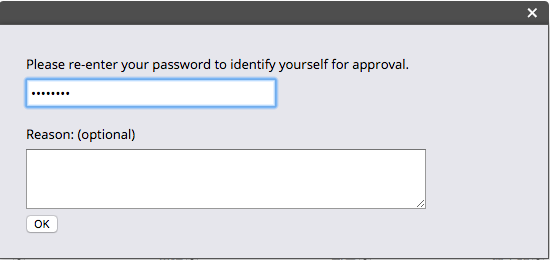 The approval flow goes from top to bottom. An approval step can only be executed once the previous step is completed. Each time an approval step is completed, "Approval status" will be updated and notifications will be sent to relevant users.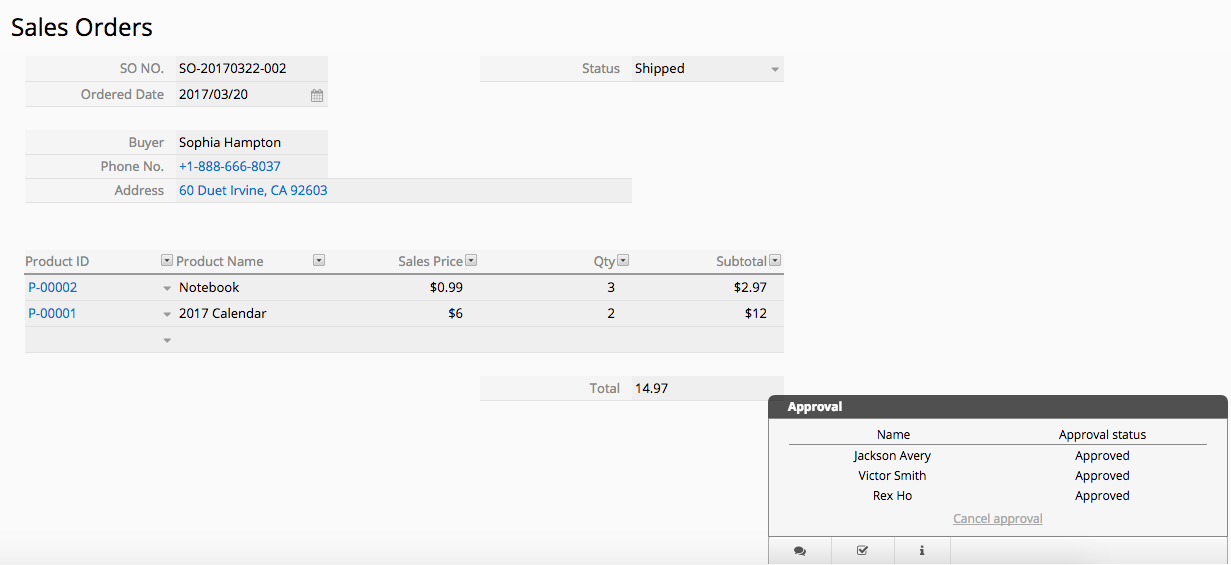 Subsequent step approval
If the approver of subsequent steps are the same, the system is set to approve all subsequent steps that require one's approval by default. You can uncheck this setting if needed.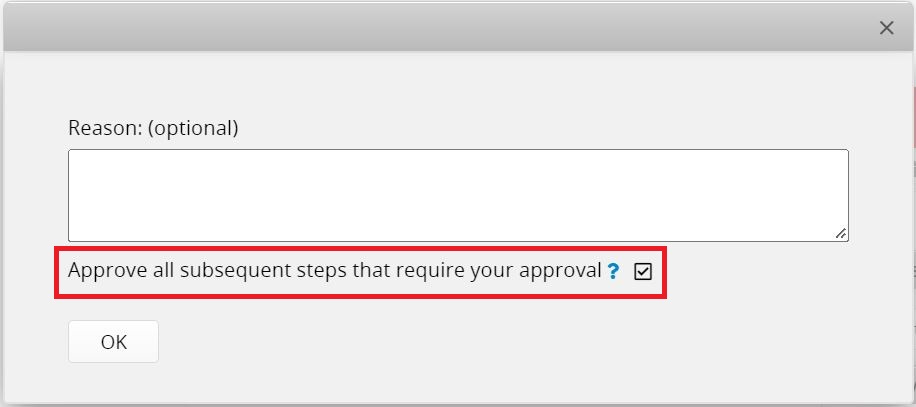 Batch Approval
You can approve or reject multiple records' "in process" approvals through Batch Approval.
Cancel Approval
After an approval flow is started, only the user who started it and SYSAdmin can cancel it. If an approval flow is finished, then only SYSAdmin can cancel it.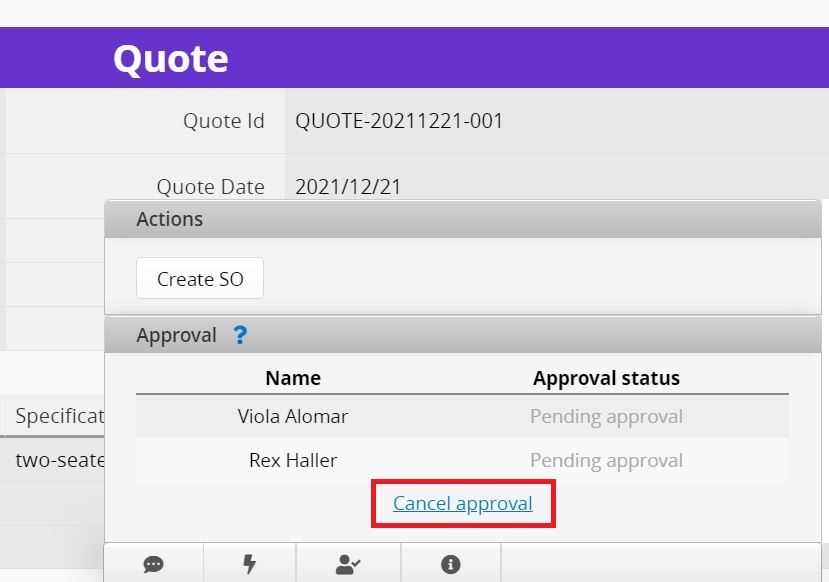 If you want to allow other users to cancel approval, please contact your SYSAdmin to modify Feature Access Settings.
Note: If action buttons are configured to be executed following the completion of an approval flow, then the approval flow cannot be canceled after it is finished.
Deputy Approval
If deputy information is saved in your User sheet, the deputy user can approve/reject approval requests on your behalf.
Deputy users will see (Deputy) next to the approve/reject action buttons on the form page of the entry that requires approval.

"Approval status" will indicate if approval/rejection is made by a deputy user.

Add Approvers
To add approvers/approval steps to the flow, click on the "+" icon next to the approve/reject buttons. You can:
Add a new step before this step - your approval step will be paused until the additional approval step(s) is completed
Add approvers in this step
Add a new step after this step